Extending eMovingCH to the whole of Switzerland
Every day, around 400 residents in Switzerland use the eMovingCH online portal to change their place of residence electronically. To make electronic change of address notifications possible throughout Switzerland, the cantons and communes that have yet to introduce eMovingCH are receiving support from eOperations Switzerland AG.
Enabling online change of address notifications throughout Switzerland
The electronic change of address notification service is available in 20 cantons and is increasingly being used by residents. In the case of a move between communes that are both connected to eMovingCH, the documents are sent electronically to the new commune of residence.
eMovingCH – the online reporting process
A cantonal solution for the whole of Switzerland
The eMovingCH solution was developed by the Association of Swiss Residential Services (VSED) in cooperation with the canton of Zurich, and six other interested cantons joined shortly thereafter.  All cantons have decided to introduce eMovingCH as part of the eGovernment Strategy Switzerland. eMovingCH has been operated by eOperations Switzerland AG since January 2018. Cantons that have not yet joined the standardised system for electronic change of address notifications are to do so on an ongoing basis. The map below shows the current utilisation status.
Utilisation status (April 2023)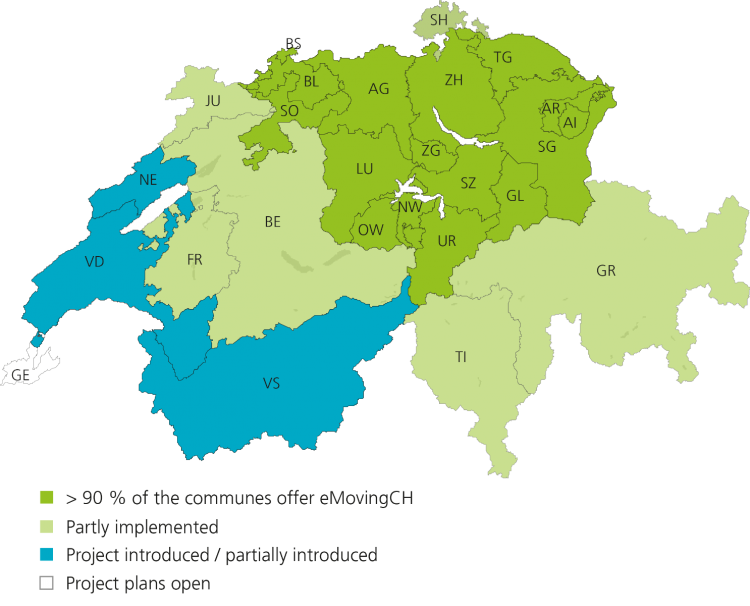 Implementation plan objective 2/21
Extending eMovingCH to the whole of Switzerland
«The e-service for electronic change of address notifications was successfully introduced in the majority of cantons by the end of 2019. The aim is to have eMovingCH available in all Swiss cantons. The operating company eOperations Switzerland AG, which was set up as part of the 2016-2019 eGovernment Strategy Switzerland, manages the project and supports the cantons and communes in setting up the service.»
Implementation plan measures
Measures
End date
Measures
Project management financing and support from the Association of Swiss Residential Services: application refinement and technical support for the communes and cantons. Meetings with suppliers on the implementation of the eCH standards.
End date
Completed
Measures
Acceptance and integration testing by those residents' registration systems that are not yet equipped for eMovingCH, provided that the suppliers adapt the systems accordingly by 30 June 2021.
End date
In progress
Measures
Multilingual offering, advertising and communication: make all eMovingCH documentation available in French, German and Italian.
End date
Completed
Measures
New versions of eCH standards will be drawn up with a view to the further development of eMovingCH.
End date
In progress